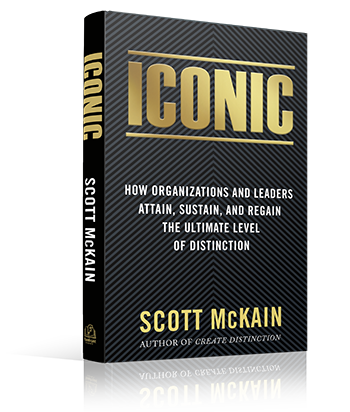 For every Amazon, there is a Sears. For every Apple, there is a Nokia. For every Starbucks, there is a HoJo's. When we mention an iconic company of today, we often forget one from the past that was equally dominant and correspondingly prominent. ICONIC will show leaders how to take their organization to the highest level of distinction, maintain it over an extended period, and how to regain that status if their company has slipped from that pinnacle.
Based upon thorough research, interviews with business leaders, and the author's extensive professional experience, ICONIC reveals the Five Factors of ICONIC Performance.
In addition, ICONIC attacks some "sacred cows" of business thinking will be confronted and exploded:
"Under-promise and over-deliver" is a horrible strategy that eventually alienates your customers.
Apple may be in for enormous difficulty in retaining their highly enthusiastic customer base.
Your brand is NOT "a promise" and it may not be what you're marketing.
You are likely wrong in how you are evaluating your customer's behavior.
What you probably think is "excellence in communication" is viewed by your best customers as an effort in manipulation they will eventually despise.
…and more.
Iconic: How Organizations and Leaders Attain, Sustain and Regain the Ultimate Level of Distinction
Launched October 9, 2018.
It is time for YOU to become ICONIC!